11.32

Labels with Dollars

20200428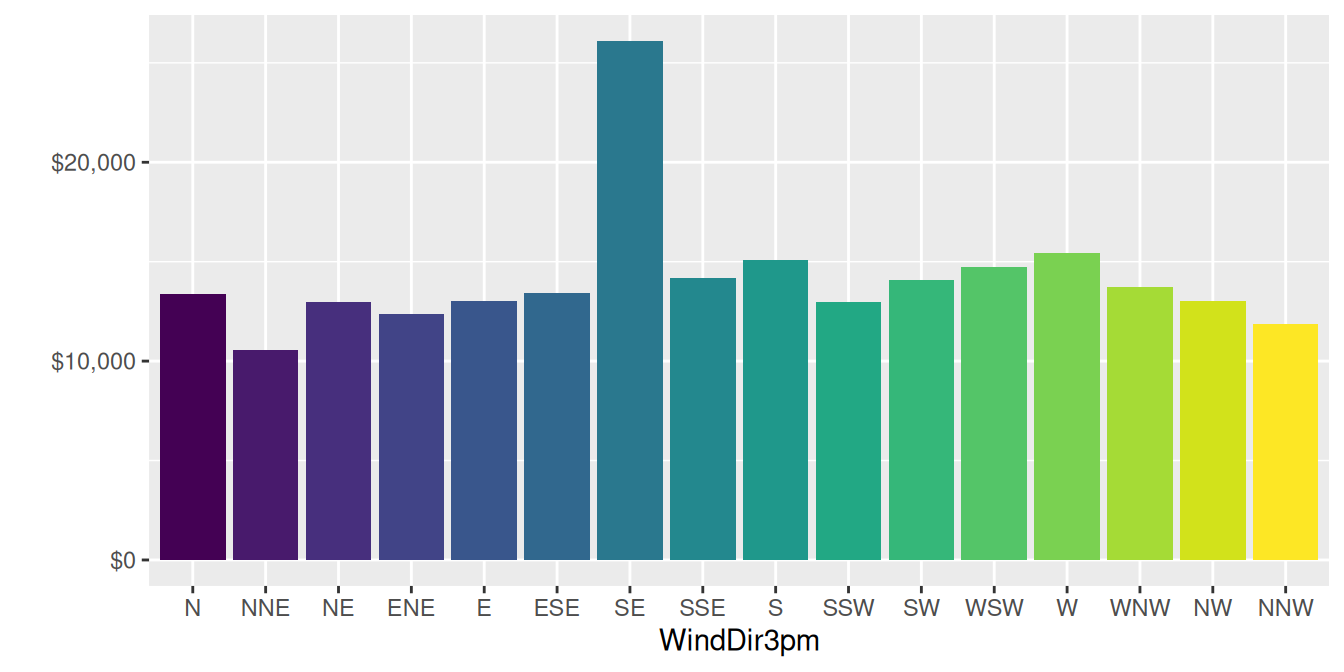 %>%


 ds 

ggplot

(

aes

(wind_dir_3pm, 

fill=

wind_dir_3pm)) 

+


   

geom_bar

() 

+


   

scale_y_continuous

(

labels=

dollar) 

+


   

labs

(

y=

""

) 

+

  
   

labs

(

x=

vnames[

"wind_dir_3pm"

], 

y=

""

) 

+


   

theme

(

legend.position=

"none"

)  
The package provides numerous formatting options that can be readily utilised for plot labels. The function scales::dollar() is useful for presenting numbers that represent currency, specifying, for example, the ggplot2::scale_continuous() function with labels=dollar. The numbers being plotted here are not currency, but are used for demonstrating the functionality. Notice that comma is also used in the displayed values.
---
Your donation will support ongoing development and give you access to the PDF version of this book. Desktop Survival Guides include Data Science, GNU/Linux, and MLHub. Books available on Amazon include Data Mining with Rattle and Essentials of Data Science. Popular open source software includes rattle, wajig, and mlhub. Hosted by Togaware, a pioneer of free and open source software since 1984.
Copyright © 1995-2021 Graham.Williams@togaware.com Creative Commons Attribution-ShareAlike 4.0.